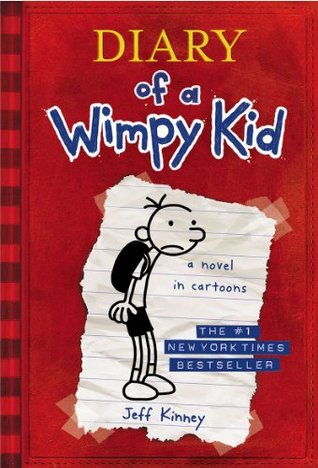 Keeping a diary is very sissy according to Greg Heffley. But its not his fault that his mother bought him this diary. He doesn't mind it right now because when he is famous he wouldn't have to waste time explaining every event of his childhood. So we start the story with Greg moving to middle school and he starts to register the interesting events happening to him every day of every month.
But the story flows so smoothly I really didn't count if he has an entry for everyday of every month. The main characters are his family and his only friend and side kick Rowley. He does a lot of things for popularity but at last Rowley ends up getting all the fame.
The deals with everyday struggles and glee of a middle schooler. Every kid can relate to it, regardless that this story is based in the USA. There is bullying, bro fight, school skit and the chaoes that ensues, the parenting and best friends through thick and thin.
My kid, 10 years old, is always on the hunt to borrow a Wimpy kid or a Jeronimo Stilton series. The highlight of this novel is that it has cartoon that makes it a very interesting read for young ones. Also the way the author has a perceptive of a kid is amazing. Every small detail he has recorded here is in the eyes of a kid. I am amazed at his perception, either he has not forgotten his childhood days or he is really good at understanding the kids.
Either way it was very good. Apart from a few terms like Halloween, grounding it was a easy read for my kid too. It is unputdownable (if thats a word??) and easily relatable. I was nostalgic and had many good laughs. The book is really funny for both kids and grownups as well!