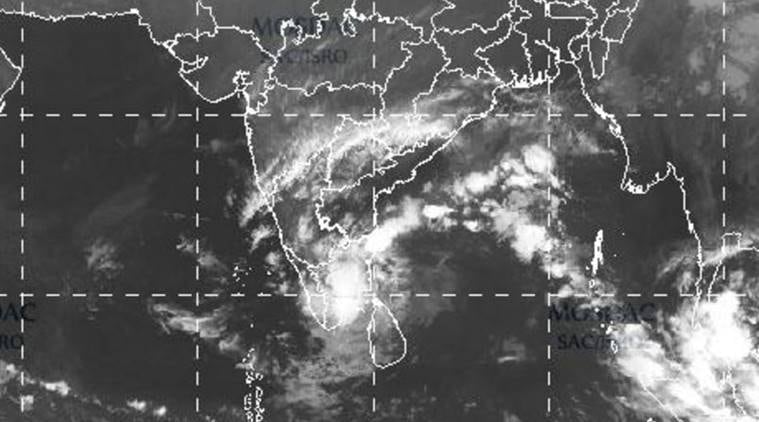 Since a couple of days there has been warnings about this storm. But since storms are a very regular thing in Chennai, I took it very lightly. Since yesterday night there has been light to medium rainfall and from the morning it has started picking up pace. But whenever there is a storm alert we normally look for the rain. But this is not the regular thing, is it? There has been news from everywhere that this storm is very strong and is defying many calculations that has been predicted before. It is not going to weaken as it makes its landfall in Chennai.
As I write this entry I sit amongst a very scary and precarious situation. I can hear the ripping of many asbestos sheets, and the swinging and swaying of trees. Since morning trees has been torn apart and uprooted totally. This is just the view from my balcony. I cannot imagine the scenario throughout Chennai. We have hooked just our modem to our inverter and so this has been our constant source of information. As per the news, thousands of trees have already been uprooted. The eerie whistling and enormous gusts have started becoming more intense. We sit here saying our prayers as the Vardah storm continues to tear the city.
I cannot help but imagine the plight of Marina Beach. Since the eye of the storm is located just a few kilometers off Chennai, Marina should be very rough. People of the low lying areas have been evacuated and taken to a safe place but still the waves would have inundated those places. The state has declared a holiday for not just the students but also for all the government and Private concerns. I can see why.
As I type I hear a snap and my bathroom padlock has come apart (yes, the PVC type door and locks). From what we can gather, its going to be a really worst situation till 5 PM. Last year December it was water and this year it is the storm.
I remember a very similar situation back in 1994. There were no inverters and even the emergency lights were battery operated. We had no power for around 3-4 days (if I recall correctly) and we had to fill our buckets with the rain water from the outlet pipes. The whole area was so dark without electricity and there was this constant howling of the wind. Coming to think of it, those days were so eerie. Lets see if the storm weakens around 5 PM. Along with Chennai, Puducherry, Cuddalore and Coastal Andra Pradesh are also hit. Lets pray that everything will be normal again and everyone be safe.